Posted by

ThriveAdmin
Comments Off

on History of Condiment Packaging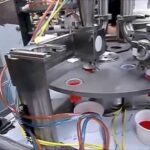 The Remarkable Evolution Of Food Packaging Over Thousands Of Years.
When we visit the grocery store today we take it for granted that all the foods we buy are packaged. This seems like such an obvious fact that it hardly seems worthy of a moment's thought or consideration.
But like most things we take for granted, they didn't just happen by accident. The fact is, the way we package and store food today is the result of literally centuries of development and evolution in the way we not only preserve food, but transport it and keep it safe to eat.
Thousands of years ago the first food packaging — if we can call it packaging — was accomplished with natural materials. For example, the indigenous people of the South American rain forest regions wrapped food in leaves, such as banana and plantain leaves. This dates back more than 10,000 years.
Or consider Otzi, the Iceman. [...]